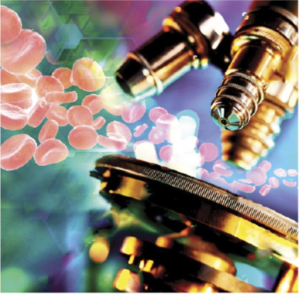 The scientific foundations of Modiblast were laid almost twenty years before the company was established in early 2020. After her PhD, Helga Schmetzer started a career in immunology, hematology and cancer diagnostics. At the Department for Hematopoetic Transplantation of the University Hospital Munich-Grosshadern (Med III) she formed the research group Immune Modulation. Her research focused on the vital role of dendritic cells in fighting off leukemic (blast) cells.
Using immunological, molecular, and chromosomal methods to detect and characterize (residual) disease in patients with leukemia, she quickly realized that it should be possible to overcome immune escape in patients with acute myeloid leukemia by converting their leukemic tumor cells into leukemia-derived dendritic cells (DCleu). These cells display leukemic antigens, so they could act as a personalized vaccine triggering the immune system to attack blast cells which carry the same specific antigens. 
Helga then went on to test a multitude of different approaches to generate DCleu, leading to a flurry of scientific publications. Starting in 2011, she and her team began to systematically characterize combinations of "inducers" and "danger signals" for their capability to modulate blast cells to differentiate into DCleu. This work identified several combinations showing good activity in ex vivo experiments using whole blood samples from AML or MDS patients as well as rats with artificially induced AML. Based on these results, off-label treatment was offered to a terminally ill AML patient. For the duration of the "Modiblast " treatment, blast counts stayed below the level of detection and his thrombocyte counts recovered to almost normal levels.
A few years ago, Ludwig-Maximilians-Universität (LMU) had waived its rights on the results of Helgas studies. In 2014, she decided to file patent applications on her own to protect the use of different combinations for treating AML and MDS. These applications eventually gave rise to granted patents in both the United States and Europe (validated in 16 countries representing more than 75% of the total population).
In order to test this promising therapy in the clinic and to lay the foundations for its later commercialization, a strong startup team was formed combining industry experts with different backgrounds. In early 2020, Together with private investors, Modiblast Pharma GmbH was incorporated. In the same year, all patents were transferred to the company. A year later, a capital raise infused a six digits sum to finance the preparation of a clinical phase I/II proof-of-concept study.